My Blog sites that reflect my life and work:
I am a painter and social worker, I am very much conscious about national and international political, social and economical events. I am always motivated apolitically.
As an Artist or a poet, I become emotionally charged when I see rights of a human being is at stake and trouble, or when human rights are violated. I believe in social mores in terms of national and international cause and aspect, I don't like to put somebody in troubles or disturb someone for my small interest or benefit. I love to avoid personal and social conflicts, but can not deny my involvement in protesting a social unjustice . So, I find my subject of painting and poetry from social unrest and unjust.
And when I write a piece of poetry or paint a canvas, I feel an urge to make it public. I send it to publication houses like who publishes periodicals ( weekly, monthly, bi-monthly etc. ). I like to disseminate the message of my writing piece. And when I paint a canvas the same treatment I apply. I exhibit in galleries and invite paper and electronic medias. I sell my works for my living.

One can see the reflection of national and international events in my work from my early works. I wrote first an international cause in my poem when Tinanmen square was washed with students blood. From then on , till today I have done a lot. My expression never depends on one style or medium, sometime I write poem sometime I draw cartoon, sometime Paintings, One thing I should add that many people discourage me about the subject of my art works. I understand it, because it is a fear of backlash or any kind of injury. But till today, I did not confront any bold opposition,
I fear religious, political and government's evil intention. A few Paintings that I am Promoting have certain special message of human rights and freedom of expression.
When the Taliban Allqaida beheaded Daniel Pearl in 2002, it had shocked me violently, I tried to generalize the incident in my understanding, and tried to forget. For, many have been beheaded by this evil force in the name of religion and politics. We are quite helpless against this international brute force. At the same time I could not control my emotion, I started drawing a lot, in direct and abstract manner, I realized there should be a message that these sorts of heinous crime can not win , they are frustrated people are being misguided, No one should join them. I painted a water colour 'three depressed terrorist or militants', another in remembrance of wall street journalist Daniel Pearl 'The killers'
.
Further, I wanted to convey the message ' stop terrorism', save human Rights.




The Killers : a picture of human right violation



The bull in the twilight zone: A destructive force creats terrorism




The dream of a goat: peaceful common people are like innocent goats, they are tied





Religious terror force sometime lead to utter destruction and chaos



The mask of sacrifice: In the name of god innocents are sacrificed, it happens in our society

I had painted another ' mask of sacrifice' water colour, the message in it ' stop killing innocent' In the paintings, one can see the depiction of severed heads of goats, a mask of godess, and tools where the victim is attached for sacrifice. In our society , innocents, who are common people, are being abused, sacrificed, in the name of religion, politics and other psuedo name .



Three depressed terrorists: An example of exploitation of teenage and youth emotion by religious fanatics and political opportunists


For Freedom of Expression and human rights http://newsfreedomofexpression.blogspot.com/
http://freenewsfreespeech.blogspot.com/

my organisation: Rainbow Artists and Writers Foundation http://rainbowartistsandwritersfoundation.blogspot.com/

my unpublished cartoon : http://cartoonin.blogspot.com/
all IndiaPEN west bengal : http://penwestbengal.blogspot.com/ International PEN

art exhibition :http://artworksexhibition.blogspot.com/
charcoal work : http://charcoalforms.blogspot.com/

gallery address and about us : http://rawfoundation.blogspot.com/

my painting and credentiallty : http://albertashokpaintings.blogspot.com/
painting biodata http://collectpainting.blogspot.com/
water colour http://albertpainter.blogspot.com/
Life biodata credentiality http://albertashoksart.blogspot.com/

Little about me:
My name is Albert Ashok. I am an Indian, Bengali is my mother tongue, I live in Kolkata, West Bengal. I call myself— 'I am an artist', yes! People also call me by the word 'artist'! I feel proud and honoured!
From my early boyhood I cherished a dream to become a professional artist. Since then I fell prey for misfortune, my struggle for existence started against all sorts of odds and adverse current/ force. My parent did not like my inclination toward arts, because we were poor , illiterate and ignorant people, and then we used to live in Tripura , a backward state in Northeastern India, among illiterate class and tribal people, a hilly region and full of forest. I am talking about the year 1965 and onward.
So, far I can remember, my father had no enough income or money to feed us. Anyway I got in touch with Art and literature and started to spin a dream of becoming a famous arttist. Dream brings a great happiness in human mind! And Everyone loves dreaming. I wanted to shed labour and earn money to fill my stomach and buy things I like .I did not want to be a burden of my father. I ran away from my hometown in Tripura in search of food and shelter, I had no specific plan to arrive in Kolkata, but felt reaching in Kolkata could be good to me and settle.
In 1978, I left my parent, house, friends with tearfull eyes, without telling anybody. I am a simple, poor farmer's son! No education! No provisions! Nothing! I reached In kolkata somehow! A quite unknown place! I had suffered so much inexplicable afflictions, hardship. I started my career as a domestic help boy, doing house errands and menial jobs. But I remained attached with my dream. As, only dream could have brought me happiness in dire stress and distress.
Today, I have come a long way to look back! From 1980 to 2007 is 27 years; It is a retrospection of my life! A time to check in how much life had offered me and how much I could have collected, and how much I offered this society and how much I received in exchange from its bowl.
The food, water, shelter and social security these were the elements which drove me from my cozy home, made me separated from my beloved parents, and brought me here, still, I am looking for them! When I am in distress, go on starvation feel insecure and helpless I remember my country men, the most of it are hapless have no security to feed themselves two square meal a day, far from literacy and clothing. It is India! I know south Asian countries and African countries are no better state than ours. But where is the problem? Do we have less resource than western countries? I don't think so!
see my paintings at www.myartprofile.com/code_a2z

My teacher Bijon Choudhury and me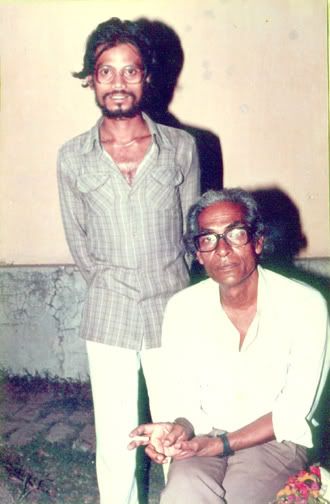 Me, with two big canvases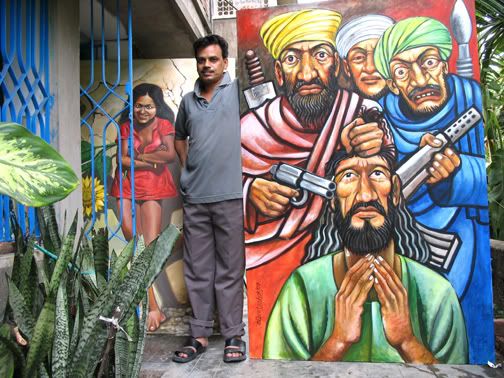 At Kolkata Press Club, A felicitation ceremony of P E N (west bengal)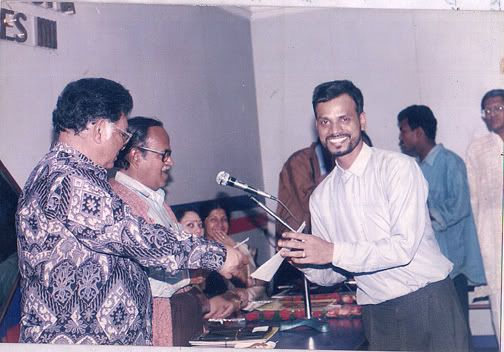 In a police launch , with a bands of writers and intelectuals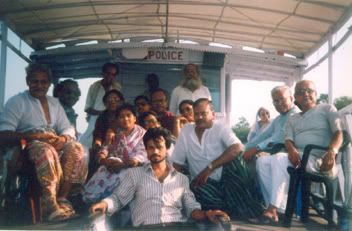 When writer Dibyendu Palit got Academy award we felicitated him in Bangla Academy Hall,
we (P E N) gave him his portrait done by me .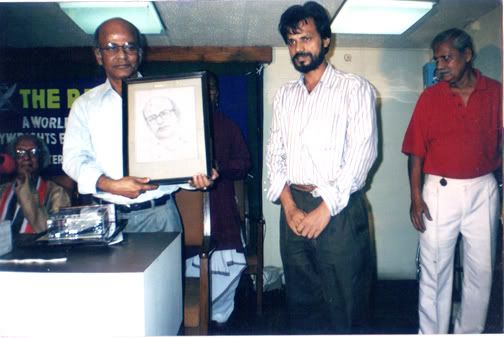 Poet Nirendranath Chakraborty is giving Deb kr Basu his portrait done by me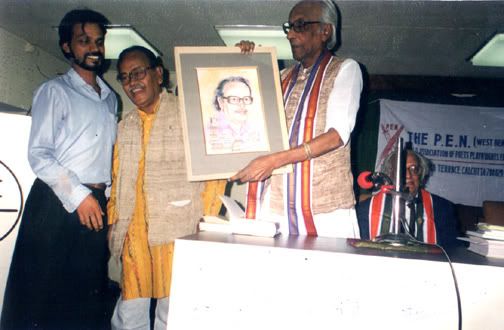 At Kolkata Press club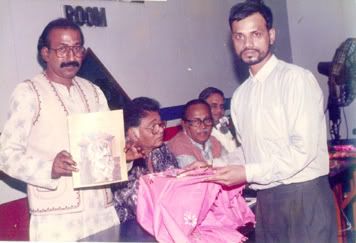 with Sandip Dutta (Little magazine research and library fame)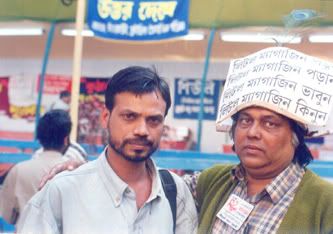 My 2nd paintings exhibition at Academy of Fine Arts, Kolkata .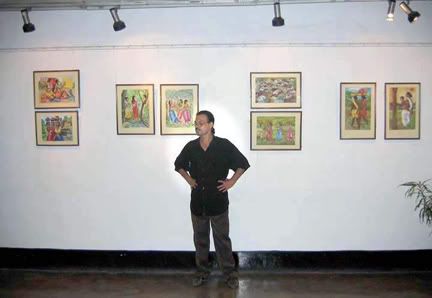 at Bally, with Bijon Choudhury, Art camp ,Bally Sadharan Pathagar


with Dip Mukherjee at Murshidabad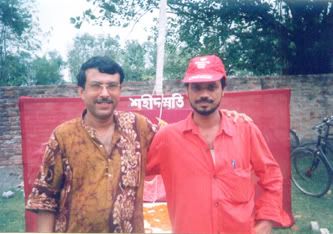 with artist Anup Roy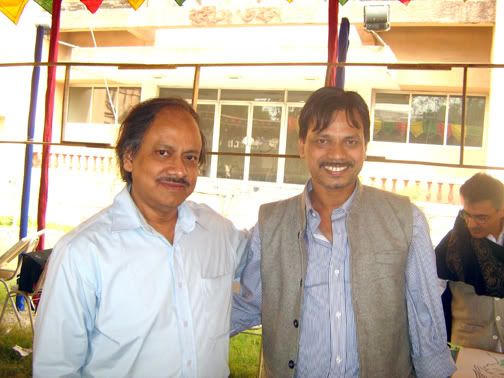 At Kolkata Book Fair, Biswagyan stall, with Debu da' and others


The first meeting of artists, illustrators who work college st,book industry,we formed an artists organisation , Freelance Artists Guild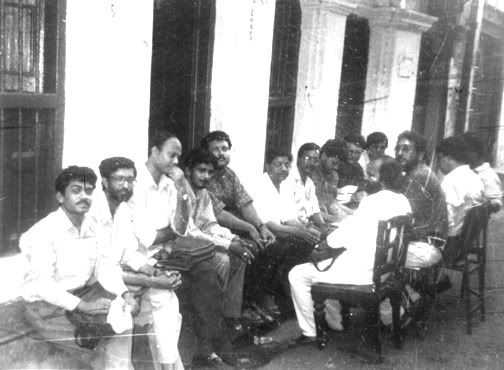 with Tarun Chakraborty and others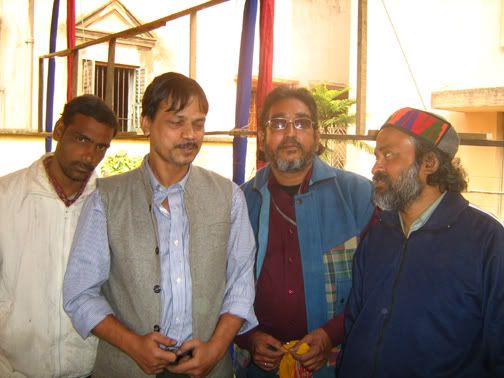 Iskra, i am reading my own poem at a funtion


at kolkata Book fair, i am reading my own poem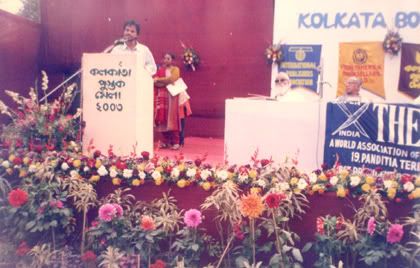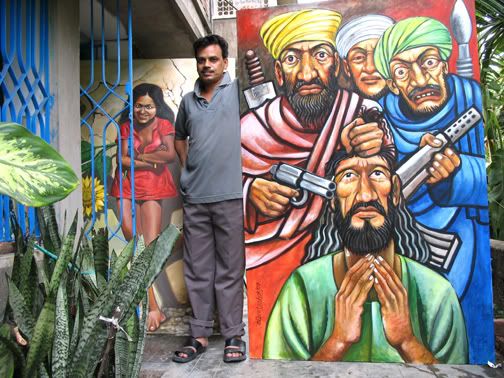 we walk for books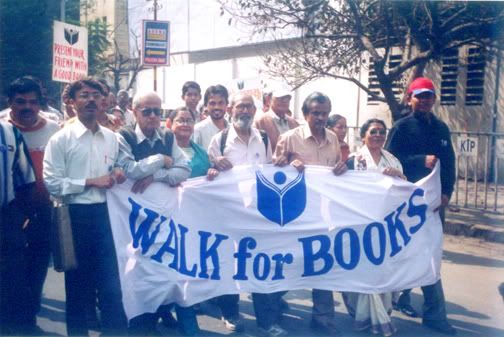 my friends and Debu Da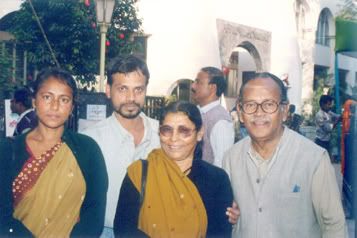 at poets confluence , Bandel