Little about Me ( Albert Ashok )
(All I want to become a Perfect human being through my Art and Literature. And this is my dream! I have a dream to be in England, and live there for some time and learn the English heritage of art and culture. So, I am waiting for the day yet to come. I want also to learn the basic traditional culture particularly art and literature of different nation, tribes, etc., and the life styles of common people in different countries.)
MY LIFE :
A short stint ( probably 9 months ) as a refugee I took shelter at today's renowned painter Bijon Choudhury's house. I was a runaway boy, I escaped my home town Agartala in Tripura, North Eastern India, to become a famous artist like Satyajit Roy (film maker). At Bijon Choudhury's House I had the first introduction about Fine arts, before that I had least and vague idea about Art. And it was 1978 to 1980. After than, I had worst time in my life. Life came down on footpath or sidewalk, No food, water, clothing and shelter. Literally I begged door to door for a fistful morsel and work chance.It was beginning of a dawn in my life. I could not draw things ,and I cherished a dream of becoming an artist and a writer, I had no formal school education, I was not fit for any better work under moving fan and on chair and table, All people around me tried to find some menial or unskilled domestic work for me, and that was also not available. I decided, I have to become a king (artist), so, I must put importance to buy its credibility and groom my self fit for the anointing and not meddle or try my hand on other kind of jobs.I started my life as a domestic boy in a family, scrubbing floor, washing kitchen-ware, helping in kitchen etc. Soon my days of unskilled work were over, I got chance in a film Distributors office as a designer.as I was looking for an art or design oriented job.
From 1980 to 1982 two years I worked as film poster designer. I got the jobs through Pintoo Datta.I came to know him through some short lived fellow acquaintances or friends. I owe much to him. He was a publicity officer in a film distributor company named Damani Pictures, Dhamatala (Opposite G C Laha' paint shop). His kindness led me to a crossroad . I started to learn drawing and painting at the same time I earn all on my own. I saw other people's works and tried to follow them. It was also a short stint and the jobs I had to quit . A crisis again appeared , and placed me where I was before without a proper shelter.I started knocking door to door at publishing houses, and stuck there somehow,From 1982 my life as an artist / designer/ illustrator started working and up to 2006. This long period is my life's vital time. I had no option, what came straight way I had to accept and face consequences, crossed the hurdle races, scoring 50%. The rainbow colours (vibgyor) has coloured me, soiled me. I have built myself, learnt art and literature, Music( ragas , folk, pop and instrument ), dance (kathak and kathakali) English language, and about communism (Marx and Engels). My eyes were soaked in dream ,I tried to raise myself as a perfect human being, not an artist or writer, I studied various subject from mysticism to astro-physics,,The book 'Begone Godmen' by Dr. Kavoor and Stephen Hawking's Brief History of Time helped me realise this universe.I started Painting from 1986 with oils, very realistic in nature, tried to follow Salvador Dali, Pablo Picasso, Paul Klee, John Miro, Henri Moore (Sculptor) Henri Emile Benoit Matisse, Nirode Mazumdar, Nikhil Biswas, Bijon Choudhury, Rabin Mondal, Amrita Sher-gil, Francis Newton Souza, George Kyt , African folk-art-mask, and Indian traditional and folk art.I have been most impressed and influenced by our temple art like Khajuraho and others, The voluminous and solidity of sculpture on the temple wall writes significance of life, it gives me an aesthetical beauty to my eyes. and a rhythm to my mind. I always eager to rediscover it from our real life and society.I had studied more than I practiced. In short, I had no privilege, or opportunities after days toiling for living and fending for my family. I had no money, no support, no parents or relative, nothing! It was my hurdle race all for my dream to materialize .Though my mother tongue is North Eastern Bengali (a local dialect of coomilla, now in Bangladesh) I started writing (1989) poems in English in leading periodicals from Delhi and Mumbai ( SUN, JETSET ) My first book of poetry ( Ravishing Youth 300) was been published in 1990, .( Now I think the book was a rubbish).This English book of poetry gave me honour and a place among learned and educated people I wrote articles on art and literature for many periodicals, Reviewed many prominent painters works exhibited in galleries , wrote stories and poetry, worked as a translator for an American theological magazine for two years, founded an art school and ran it for 5 years then handed over it to an organization and local club, in Bally, Belanagar. Worked as figure drawing teacher in a diploma college at Beliaghata. And this is short account of my life.Hobbies: Art , literature, any type of cultural activities, Reading books on different type of subject etc.Occupation/service:At different advertising agency, press, publishing houses, and as a freelance artist in film distributor companies, periodicals, publishing houses, art teacher, painter , art critique, essay writer, translator etc.Specialisation at : Drawing , painting , Cover designing, illustration , comics , cartoon .Experienced on : Writing Books, Exhibiting of paintings.
Updated on 10 may 2012-----------------------------------------------
Albert Ashok
(Biodata)
Date of Birth
: 7
th
February 1961
Education: Self - taught
Occupation/service (1982 –2011) : At different advertising agency, press, publishing houses, and as a freelance artist in film distributor companies, periodicals, art teacher, painter , art critique, essay writer, translator etc.
Specialisation at
: Drawing , painting , Cover designing, illustration , comics , cartoon .
Award and Honour
: In 2008,
ArtVenture
,
a philanthropic world organization
in association with
ARTICLE 19
, based in London and Singapore launched the 'Freedom to Create Prize'. This international prize is for artists who use their talents to promote human rights, including the freedom of expression, empathy, equality and understanding. Art venture had projected Albert Ashok as their featured artist in their global electronic mediums. It is a matter of honour

and achievement,

because, about 1000 artists from 89 countries had participated in that competition.
Awarded and conferred 'Satya Shiva Sundar' , a highest honour by The district Council of Culture, Kalahandi, and Lalitkala Academy, Odisha, India, in 2010.
CREDENTIALS

from 1999 to 2011
PARTICIPATION :
1) 64 th Annual All India Fine Arts exhibition 1999 SANJOG at Academy of fine Arts.
2) Annual Art Exhibition, 1999,West Bengal State Akademy of Dance, Drama, Music,and Visual Arts at Academy of Fine Arts. Calcutta
3) Annual Exhibition,Rajya Charukala Parshad , Tathya o Sanskriti vibhag, at Rabindra Sadan, Calcutta.
4) Barshik shilpa kala pradarshani1999, Pashim Banga Rajya,at Nandan Calcutta
5) 65 th Annual All India Fine Arts exhibition2000 at Academy of Fine Arts Calcutta.
6) Poetry on Canvas a workshop at NSHM Academy Campus , on 21st, 22nd March 2003,conducted and arranged by NSHM Academy.Durgapur,Arrah,Shibtala 713212 WB.
7) 71st Annual All India Fine Arts exhibition2006 at Academy of fine Arts. Calcutta
GROUP EXHIBITION
Academy of Fine Arts Calcutta . from 2002 to 2006
Chitramoyee State gallery of Fine Arts kavury hills, Hyderabad ,A.P.10th to 16th April 2007
Birla Art And Culture—20 may –25 May 2008 Kolkata, West Bengal.
'MoNSooN ART SHoW 2008' KAMALNAYAN BAJAJ ART GALLERY 226, Nariman Point, Mumbai – 400 021
Academy of Fine Arts, Kolkata- 30 June to 6th July 2011 Creative org, by Bengal Painters
Chemould Art Gallery, Kolkata – 19 July to 23 July 2011 The Passion, org by Raw Foundation
Chemould Art Gallery, Kolkata – 12Oct to 16Oct 2011, Essence of Expression, org by Raw Foundation
Chemould Art Gallery, Kolkata – 17 March to 21 March 2012 Love Labour and Conception, org by Raw Foundation
Art Camps :
Hyderabad ( Hyderabad Art society) 18 april to 20th april 2007at Mini Hall, 2nd floor, Rabindra bharati
Dhanbad
(A National level Art Camp), 19th to 21 st March 2010,
Odisha
(All India Painting exhibition and workshop),3rd to 9th may 2010,
Tripura
Sabrum (A solo oneday exhibition) 20 nov 2010,
Deoghar (Kala mela : Art Camp) Jharkhand, 13th to 15th march 2011

and many more..
PRIVATE COLLECTIONS :
Toronto (Canada) Herts (London) Delhi, Hyderabad , Kolkata (Sodepur) , Assam and Tripura (Sabroom), Ireland.
WORKSHOP art and literature
1. CREATIVE ART MEET at Mirinia Resort near Science City Calcutta
2. Soumen Charu Kala Utsab Bali sadharan Pathagar 383 G T Road Bally, Howrah- 711201 in 2004,to 2010
3. ' Monmartre Artist Camp 'at Calcutta Book Fair 2003 ,2006, Publishers guild.at Maidan Calcutta
4. Little magazine mela ---2003 to 11 5th year,Pashim Banga Bangla Academy ,11 to 15 Jan 2003,West Bengal State Government , Eastern Region Cultural Center, and Informention Center.
Excluding numerous participations in poets confluences in various places held through out West Bengal as poetry reading with local writer and poets.
Concluding :
Albert Ashok, A renowned artist, poet and an editor of an English literary Magazine in India. Though his mother tongue is Bengali he loves to express his emotion in English, his most poems are in English. His first Book of poems
' Ravishing youth 300' in english
was published in 1990, before that he used to write poems in periodicals like 'The SUN'
a tabloid weekly, published from Delhi.
"From 1982 to till date I am working as a full time artist and writer. There are about a hundred Books on drawing and paintings, written by me and every year about a few100,000 school and college students are using them,I used to
take classes in diploma school and colleges as figure drawing and paintings teacher. At present I run a school for senior students at my studio."
Albert Ashok has written many books, published by different publishers, he has about a 100 books to his credit - 7 of poems, and most books on drawing and paintings used by
school, college and advance student of Art. His books are most popular in West Bengal, neighbouring states of India and Bangladesh. He writes essays in periodicals/ magazine on art and literature, reviews ongoing painting
exhibitions in galleries.
As a profession or occupation he has served two decades ( 1982 – 2007) as a freelance artist in publication industry in college Street, Kolkata, doing all sorts of illustration and cover designs for children and adult books.
An ex-teacher of figure drawing SAKSHAR KALA BHAVAN, Beliaghata and others at Uttarpara, Hooghly.
At present, he runs a hobby school for advance student of Art
in Kolkata at his residence.
There are numerous poems stories, and articles scattered in little magazine published from various places which are yet to get a book form,
1) Ravishing Youth 300 my first book of poetry in English , Published by :Spectrum Cal 700009
2)Bhvnai Kamnai Jatnai Bengali book of poetry ,published by:
3)Shatabdir Shesh Surjya do Published by
4)Phire Phire Chai Mukti Ache Kothai Published by Sahitya barta , nabin pal lane cal.
5) Baruder kabi Ami Ami Barud Published by:
6) Bhalabasa ekhon daou daou shikha published by:Biswa jnan, 13, Tamer Lane Calcutta 9
BOOKS ARE ENLISTED FOR SCHOOL CHILDREN
1) Ami anki
1 ,2,3,4 parts.
Published by : Ranjan Publication , 8/1 A Shayama Charan Dey Street Calcutta 700073
2) Dekho Aar Anko 1,2,3,4parts
3)Ranger mela Aankar Khela 1,2,3,4 parts
4)Aanka Shekho Pencile 1,2,3,4 parts
5)Esho Anki Pestele 1,2,3,4 parts
6)Chabi Dekhe Chabi Aankho 1,2,3,4 parts Published by : Basak Book Stores,Megdoot, 4 Shayama Charan Dey Street, Calcutta 700073
7)Rang Bahar 1,2,3,4 parts
8) Alpana 1,2 parts Published by : Pragati Publishers, Tamer Lane, Calcutta
9) Rang O Rekha 1,2,3,4 parts Published by : Deepayan, Keshab Sen Street, Calcutta
10) Super Pastel Scenery published by: Siksha Niketan Sitaram Ghosh Street,Calcutta
11) Super Colour Scenery
12) Aanko ar rang Published by :Anubhava 12/6Tamer lane,Calcutta700009
1)Kane Sajano o Mehendi Published by : Shiksha Niketan ---- 50,Sitaram ghosh Street, Calcutta--9
2) Utsabe alpana
3) Kane sajano Published by :Nirmal book Agency : 89,Mahatma gandhi road, Calcutta700007
4)Alpana
5) mehendi published by: Mahajati prokashan 13,Bankim Chatterjee Street, Calcutta73
6)Kane sajano
7)******************* Published by; J .N.Chakraborty & co : 13,Bankim chatterjee Street ,Calcutta-700073
8) **************
9)***************
1) Nature Study Published by :Biswa Bani Prokashani - 79/1B, Mahatama Gandhi Road, Calcutta
2) Pencil Drawing For Young Artist Published by: Skylark : 15Bankim Chatterjee Street Calcutta 73
3)Super Scenery Published by Siksha Niketan Sitaram Ghish Street Calcutta
4)Super Composition 1, 2 Parts
5FOR ADVANCED STUDENTS OF ARTS
1)Drawing Chabi Tairir Gathan Tantra Published by Biswabani 79/1B Mahatma Gandhi Road , Calcutta700009
2)Charukalar Protham Padakshep
3) Nude Study
4) Figure Study
5) Jal Rang Lagabar Kaida o Niyam
6) portrait Study
7) Drawing Course ( prokriti, Pashu,o Pakhi) Published by:J.N.Chakraborty & Co Bankim Chatterjee Street, Calcutta
8) Drawing Course (Jantu Janour)
9) Drawing Course (Manab Deh)
10) Animal Figure Published by :Siksha Niketan - 50,Sitaram Ghosh Street Calcutta-- 9
11)Human Figure
12) Water Colour in Natural Scenery Published by ; Skylark
13) FIGURE DRAWING for advanced student in English Text Published by:Bhuniya Book Distributor. 8 ,Shayama Charan Dey Street ,Calcutta700073
There are many books that have no records and now out of print, not available in market ,a few I can name as :
Eklabya
a book of comics published by Golden Comics ,college st subra mazumdar and baby roy
Tarjan,suku, axa etc
published by Ashok roy, from APP keshab sen st
Birds figure, colour composition, flowers and fruits human figure 2, animalfigure 2 , super paintings
Published by Shiksha niketan 2007
_______________________________________________________________
ALBERT ASHOK
email -
albertashok@yahoo.com
website -
www.myartprofile.com/code_a2z
You can see my works (click on the topics)
######################
The Baul
Size 4 x 6 feet , acrylic on canvas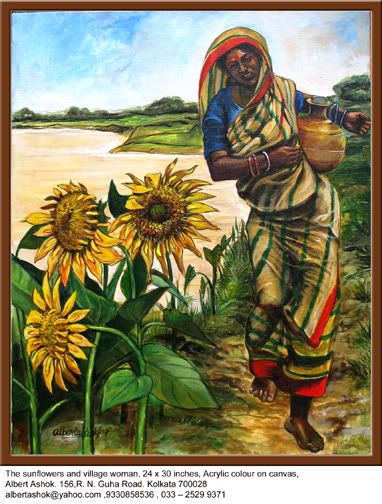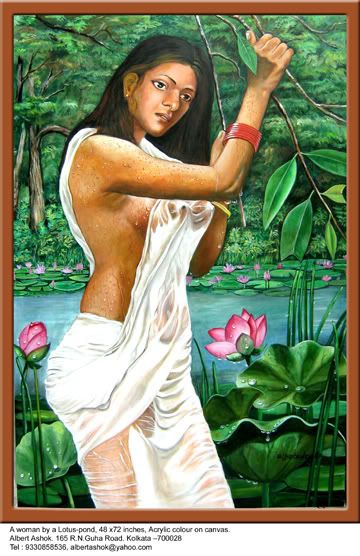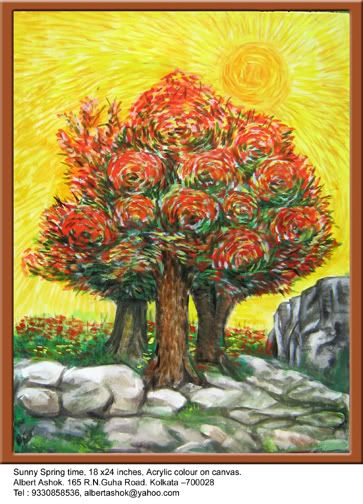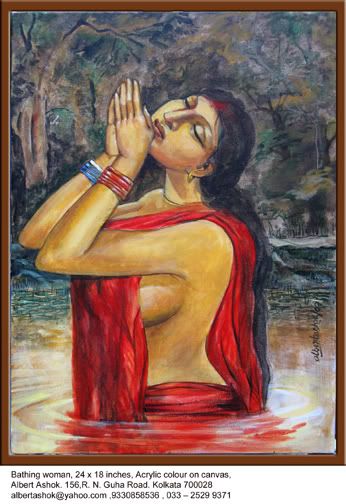 ----------------------------------------------------------------------------------
woman by the lotus pond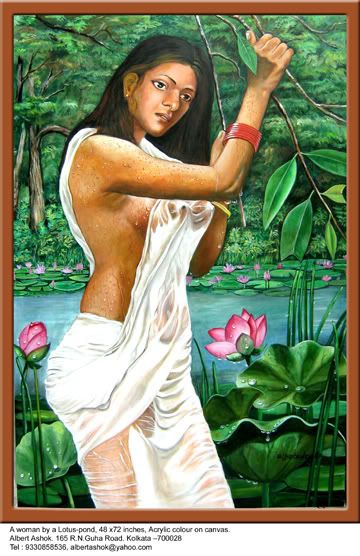 ---------------------------------------------------------
the painting for sale
unknown bird in the cage